Tippy Canoe (board) and Writer Too: On Being Seventy and a Debut Novelist
By Dolores Maggiore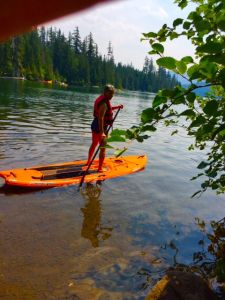 "So," razzed younger neighbors, "what does a seventy-year-old who sits on her bottom all day to write know about getting up on a paddleboard? You'll fall on your butt!"
"Hah!" I said—my expletive was much more colorful—"Watch my butt!"
Resistance being our strong card, my wife and I took our bespoke bottoms to Lost Lake, Oregon, to rent a paddleboard. I commandeered a cove area in the shade of firs, cedars, and wild huckleberry and awaited the arrival of my pioneering woman. Would Terrie come to me on her knees or prone? I didn't venture a guess. I signaled my position and stood ready with a cold one.
"Woo Hoo!" I shouted and extended my hand to welcome her to our secluded space. She stepped off and nodded to her imaginary audience. "Thank you, thank you!" she graciously accepted the applause.
"Next!" She gave me her hand, "wifesplaining" technique. When she looked up to wish me happy sailing, my short Italian American legs had already risen above the flow. Needless to say my bottom was up!
Paddling felt like coming home. I flashed on my pine-scented canoe-paddling days in Maine. In an instant I relived my youth, my writing of Death and Love at the Old Summer Camp, and tender love and affection. I heard my name. Old friends waved. Mt. Hood stood above us, smiling. "Here's to seventy, a debut novel, and bottoms-up!"